5 of our favourite things about Les Villages Nature® Paris
Are you looking for a different way to experience Disneyland® Paris? Maybe you'd like to have the opportunity to relax outside the Parks or have a larger family to accommodate? Well, we have the answer! Les Villages Nature® Paris.
Les Villages Nature® Paris is an award-winning eco-friendly Disney Nature Resort, located just 6km from Disneyland® Paris, with apartments and cottages that sleep up to 12 people. It is a fantastic way to experience Disneyland® Paris with family and friends. Plus, there is so much to enjoy at the resort itself. Your stay includes unlimited access to 5 immersive worlds, including one of Europe's largest indoor water parks - Aqualagon®!
MagicBreaks have recently hosted a family influencer trip to Les Villages Nature® Paris, which allowed us to spend 3 nights here and fully immerse ourselves into the resort and experience all that it has to offer. So, here are our best bits…
1. Accommodation
Les Villages Nature® Paris offers a wide range of accommodation to suit all families. You can see a full list of all accommodation options here. All are extremely light, bright and modern. Some of the larger accommodations are equipped with a log burner so you can cosy up after a day of exploring. Laura from Five Little Doves, one of the lovely influencers on our trip has provided a fantastic write up on her three-bedroomed Country Premium Cottage, take a look here.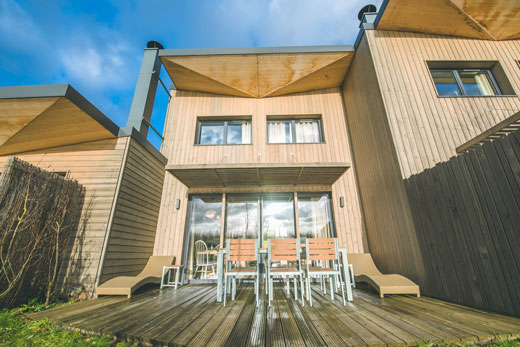 Credit: fivelittledoves.co.uk
2. Aqualagon®
Aqualagon® is the biggest water park in Europe, it is heated entirely with geothermal energy and offers a whirlpool of water-based activities for all. This was a firm favourite with all families. With 7 giant water slides, a wave pool and an outdoor lagoon heated at 30ºC all year round, it provides hours of fun which tires the kids out too…result! For those who prefer to unwind and have possibly had a busy day Disneyland® Paris, they can indulge in slower-paced activities, as the Aqualagon® is fully-equipped for moments of relaxation. They can sit back in the hot tubs, recharge their batteries in the spa and swim in the outdoor lagoon. You can also take a walk up the very top of Aqualagon® to get a beautiful view of the whole resort, like Laura, Eva, Megan and Harry did.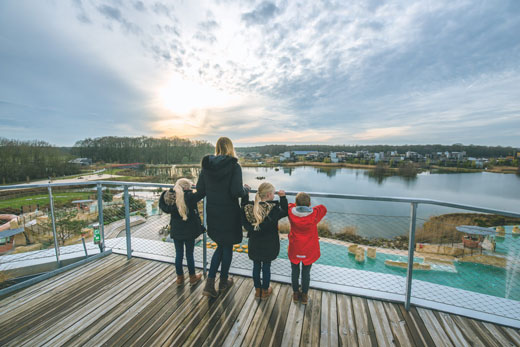 Credit: fivelittledoves.co.uk
3. Food
Les Villages® Nature Paris hosts a number of top-class restaurants with mouth-watering meals at affordable prices. We dined at Cépages, which offers a range of dishes and delicious wines. It's an extremely stylish restaurant which makes you feel like you've been transported to central Paris. This is definitely a great option for couples or groups of adults.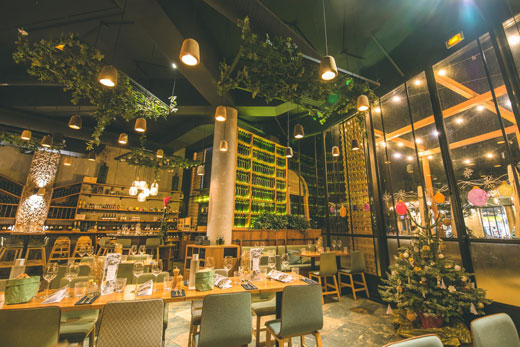 Credit: fivelittledoves.co.uk
We also ate at Les Délices de la Ferme Restaurant, located at BelleVie Farm, which was a hit with the kids and parents alike. The restaurant offers tasty fresh and wholesome dishes and a massive play area which meant a more relaxing meal could be enjoyed by the adults! It's safe to say it was difficult to pull the kids away even when their ice cream had been served! Hayley from Sparkles and Stretch Marks has captured some great imagery from the play area here.
Miam Miam was a fantastic option for lunch after a morning spent at Aqualagon®. Burgers, nachos, rice bowls and more are served along with the most amazing desserts. The cookie dough cake was a dream, we are still talking about it now. Karen from Missing Sleep agrees and also included this in her blog post, which you can find here.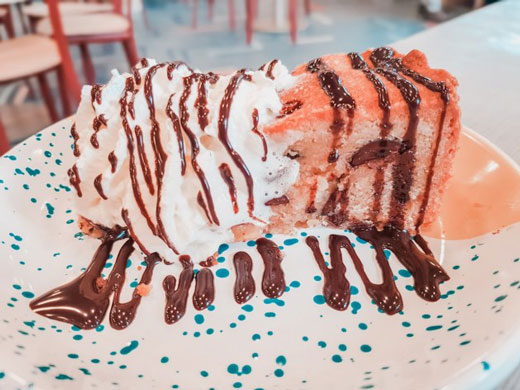 Credit: reallymissingsleep.co.uk
For lighter bites, on-site bakery Chex Meunier provides pastries, cakes and sandwiches. We would highly recommend the paninis here! YUM. For something a little healthier, PUR Etc is extremely tasty and nutritious. There is also a supermarket located a few doors down with a large salad bar. This supermarket is also great to stock up on bits and pieces for your apartment which is great if you're on a budget.
4. BelleVie Farm
There is so much to experience at BelleVie Farm for all ages. As mentioned, the restaurant is lovely and you can grab a coffee and light bites here throughout the day also. You can take part in a chocolate making class which Karen tells you all about here. You will find out how chocolate is made and make your very own to take home, unless you eat it all before you leave!
Credit: reallymissingsleep.co.uk
You'll be able to see a number of different farm animals including goats, pigs and you can even take a pony ride around the resort (kids only I'm afraid!)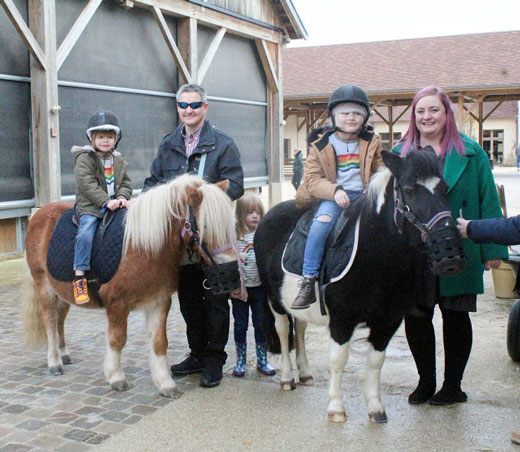 Credit: sparklesandstretchmarks.co.uk
5. Disneyland® Paris
Les Villages Nature® Paris is the 'perfect way to do Disney' as Cat from No So Smug Now sums up in her blog post that you can read here. We understand that everybody is different. Some like to immerse themselves fully into all things Disney and a Disney® Hotel is therefore the perfect option. For those who may have experienced this before and are looking for a different way to experience Disneyland® Paris, or for those who would just like a little oasis of tranquillity to escape to after a day in the Parks, Les Villages Nature® Paris is ideal. Shuttle buses run every half an hour each day to and from Disneyland® Paris, costing just €2 each way. After a day in the Parks, many of the families on the trip enjoyed a Vapianos takeaway which is available at Les Villages Nature® Paris, located on the Lakeside Promenade. A great way to wind down after a busy day and share your favourite magical moments.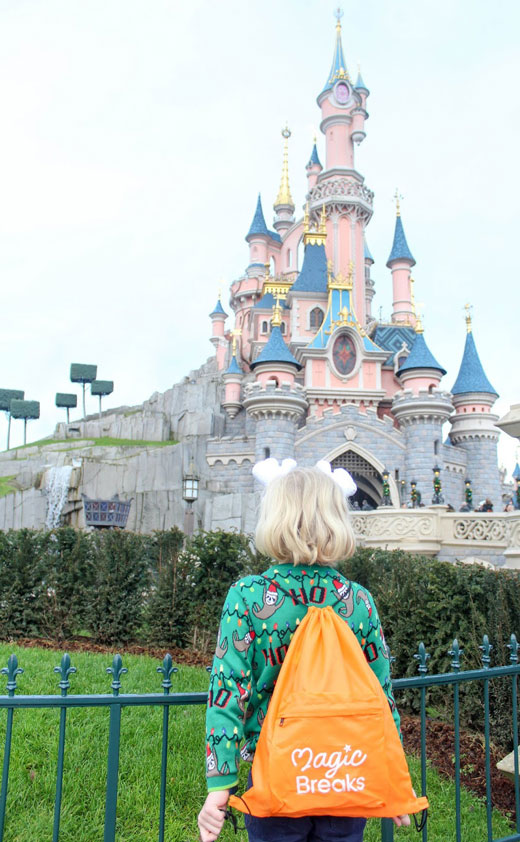 Credit: sparklesandstretchmarks.co.uk
Both self-catering packages and packages that include Disneyland® Paris Park Tickets are on offer with MagicBreaks. Self-catering packages start from just £79pp which is outlined here and packages including Disneyland® Paris Park Tickets and a FREE Half Board Meal Plan starts from just £219 per person, which also includes €100 Disney Spending Money!* Click here to find out more. These prices don't include transport but this can most definitely be added to your package. Eurotunnel, Eurostar or flights, whichever suits you best!
To find out more about the fantastic resort that Les Villages Nature® Paris is, click here, or feel free to ask us any questions via our live chat function or on social media.