MagicBreaks Star Wars Weekend Giveaway
Hands up if you're going to the cinema this weekend to see Star Wars: The Rise of Skywalker…
We are big Star Wars fans here at MagicBreaks so we most certainly will be!
To celebrate the release, we are giving away a FREE Family Cinema Pass to those who book a transport-inclusive Disneyland® Paris holiday with MagicBreaks between 19th - 22nd December 2019. This offer is valid for arrivals during Legends of the Force: A Celebration of Star Wars (11th January - 15th March 2020. The force is strong with this one!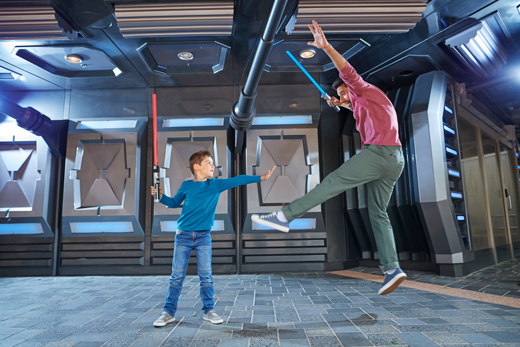 So, what can you expect to experience during Legends of the Force: A Celebration of Star Wars at Disneyland® Paris?...
Star Wars: A Galactic Celebration
Relive the Star Wars saga's most galactic moments in this spectacular nighttime show - now with new scenes from Star Wars: The Last Jedi. Feel the force as Luke Skywalker destroys the Death Star, Obi-Wan defeats Anakin and more!
Legends of a Galaxy Far, Far Away
The Force has never been stronger with this incredible show ignited by stunning scenes and Star Wars Characters, such as BB-8 and Boba Fett.
Meet Chewbacca
Prepare for a huge hug with one of the galaxy's most legendary warriors, Chewie. Can you rrrrroar loud and proud like a Wookie?
First Order March
Stand back and witness for yourself the striking stature of the notorious Captain Phasma directing a battalion of stormtroopers through a legendary demonstration of galactic might.
Dare you encounter Darth Vader?
Check into Starport and prepare to bow down and show some respect to the most dreaded Dark Lord of the Sith in the galaxy, Darth Vader. In Disneyland® Park all year round.
Stormtrooper Patrol
You better keep a cool head, have your papers ready and get your story straight because the most feared soldiers in the galaxy, the Empire's stormtroopers, are patrolling the streets looking for Rebel spies.
Star Wars in Disney Illuminations
Gaze in awe at Sleeping Beauty Castle as Disney Illuminations lights up the night's sky with famous Disney tales and explosive battles from the Star Wars saga. In Disneyland® Park all year round.
Star Wars Hyperspace Mountain
Board your Rebel Alliance vessel and prepare to play your part in a legendary battle with an Imperial Star Destroyer. Expect a frenzy of red and green blaster fire, the whirr of TIE fighters and more! In Disneyland® Park all year round.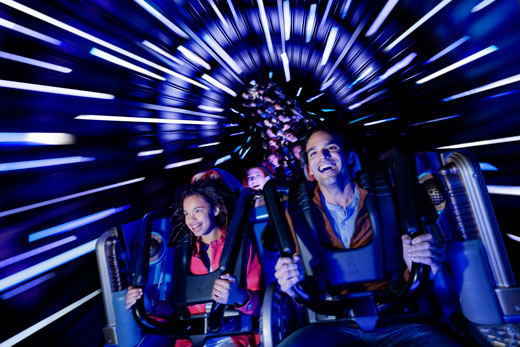 Star Tours: The Adventures Continue
Buckle up in your Starspeeder 1000 and embark on an eye-popping 3D adventure through the most iconic planets from the Star Wars saga. With so many mission combinations, every trip is unique and sure to make the most devout Jedi over the moon. In Disneyland® Park all year round.
PLUS, you can benefit from the brand-new Disneyland® Paris offer, save up to 35% on Disney® Hotel and Park Tickets*!
Prices start from just £139pp, which includes 2 nights' accommodation and 2-Day Disney® Parks entry. This price is based on two adults and two children aged under 12 sharing a Country Premium 1 Bedroom Apartment at Les Villages Nature® Paris on selected dates in January 2020. Transportation can be added from as little as £19pp!
Eurotunnel packages start from £159pp.
Eurostar packages start from £259pp.
Flight packages start from £249pp from London Luton Airport and £279pp from Manchester Airport.
In addition to this, with every Disneyland® Paris booking made with MagicBreaks, you will receive a FREE magical call from Mickey Mouse to announce your stay, a FREE Disney Activity Book and 15% off dining at Planet Hollywood® and Earl of Sandwich®.
Click the 'Get Quote' button below to feel the force of MagicBreaks exclusive offers…
**Valid for new transport-inclusive Disneyland® Paris bookings made between 19th - 22nd December 2019, for arrivals from 11th January - 15th March 2020. Please note that your cinema pass will be emailed out to you once your final balance is paid. ©Disney © & ™ Lucasfilm Ltd.